Monumental Windows and Doors helped to unveil a hidden gem in the mountains of Coachella Valley. The Madison Club—the most exclusive residential community in La Quinta, California—is home to many delightful attributes: a world-famous music festival, star-studded celebrity residences, and an 18-hole golf course ranked in the top 150 in the country.
Monumental Meets Jensen Doors
2021 luxury home trends are shifting the luxury home buyer's motives to go bigger and bolder. The same is clearly true for Madison Club real estate. Our latest collaboration features the 5000 Series: Sublinear Sliding Glass Door System on a new home in the Madison Club overlooking incredible valley views.
Dressed in a neutral color palette, the home is styled with natural wood and stone, accented with clean lines and modern furnishings. When it comes to modern desert living, this grandiose property exceeds expectations. With spectacular Santa Rosa Mountain and sweeping San Jacinto views, the custom home required massive expanses of glass to fit the mold of the desired window frames.
The coveted luxury patio doors feature was installed by Jensen Door Systems. "It happened so quickly," says Jeff Jensen—co-founder of Jensen Door Systems. "A colleague showed me some of Monumental's products and two days later I was standing on the construction site, working on the Madison Club project."
"I initially thought this project would be a one-time deal, but it's turned into an everyday thing. I heard some rave reviews from a few colleagues at the Madison Club about Monumental, then everything fell together. There was a track record that I felt comfortable with. Now we're on our 8th home with my client, Richard Doan Construction."
As a dealer, Jeff can also appreciate the fast lead times that Monumental Windows and Doors delivers on. Part of this has to do with Monumental's all-local manufacturing. "It was very important for us to operate locally. When something goes wrong, we're able to fix it right away. And you can see the results of that fantastic local partnership here."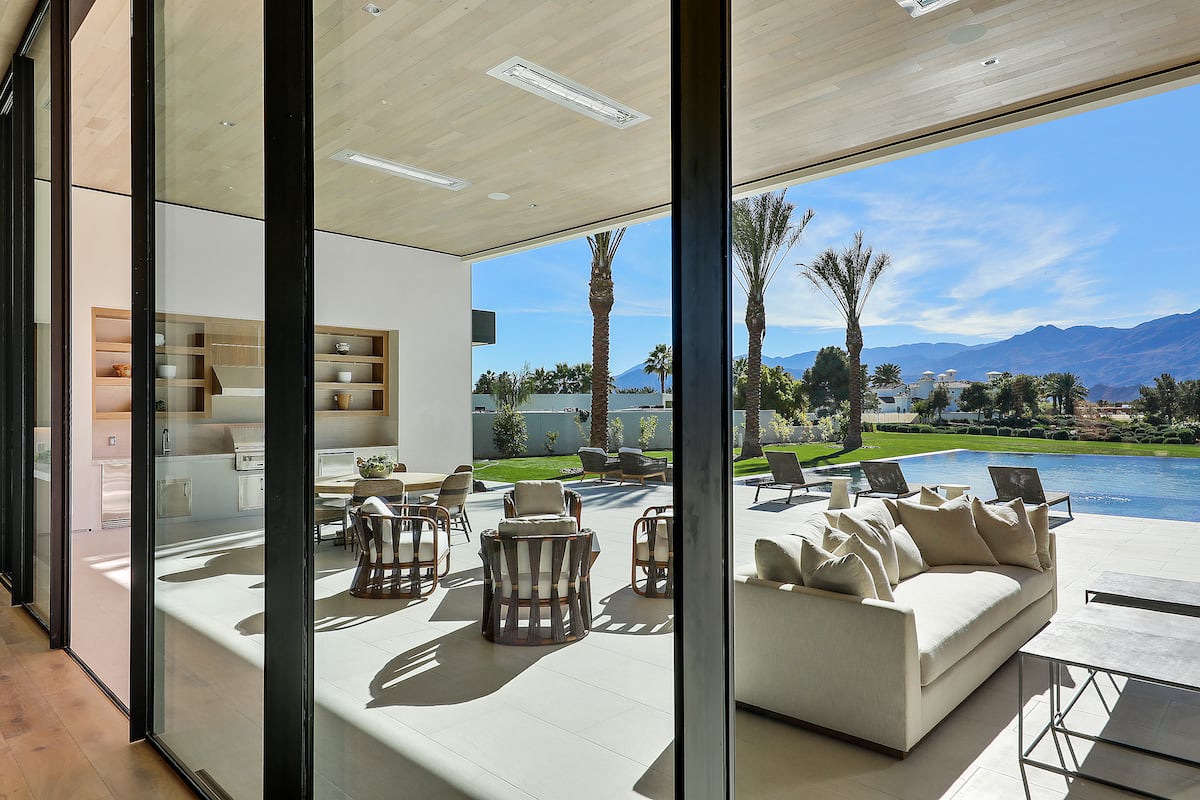 Infinite Monumental Views… and Beyond
Breathtaking and beautiful. Thanks to our energy efficient sliding glass doors, these views are no longer hard to miss. That's what makes them special. What's better than taking in scenery of this caliber through doors that disappear into the floor and out of sight? Watch as these sliding glass door panels open like curtains. Sleek, chic, and seamless.
"The first time I saw the Sublinear Sliding Door Systems was in a trade magazine. No one was making them at the time. I was interested in it for quite a while. When Monumental started experimenting, I was on board with it right away," says Jensen.
The panels are equipped with an intricate sliding track feature that blends in with the sill of the door on our aluminum glass door designs. Our reversed rolling technology is integrated into the sill, creating the illusion of the "invisible" glass door. These unique sill systems with multiple panels make for easy maintenance and longevity.
Take a closer look at the doors in motion as they glide on the multiple-track system on sills that are fixed into the floor. A really special effect takes place as each of the window panels disappear into one another while the doors expand, revealing stunning outdoor vistas.
Soak in the Surroundings 
Monumental: enormous, gigantic, massive, colossal. It's a word that speaks for itself and stands by its promise. Get a glimpse of the glamour:
"When it was complete, the Sublinear Sliding Door System was the big wow factor. People really noticed it. We got so many reactions out of it. The Madison Club is truly the pinnacle of the iceberg. There's nothing more high-end than this place."
Jeff Jensen, Jensen Door Systems
Here at Monumental Windows and Doors, we ensure luxury and efficiency are at the heart of everything we do. As one of many door manufacturers in Southern California, we understand that quality trumps all. Monumental Windows and Doors certifies all of its products through the NFRC, the ASTM, and the AAMA to ensure that we meet industry standards. We offer a wide range of products for the luxury home buyer or builder. Find out more about your options for new home design trends by contacting our expert team.