Aloha! In October, Monumental shipped several of our Vari-Slide™ door assemblies to Maui for installation in the remodeling of a custom home. The photo shown above was taken right off the lanai where our team was working, what a view!
Custom Details
The aluminum frames and panels were powder-coated with a teak wood-grain finish, giving the space a rich, natural look. The six pocketing doors (shown below) bi-part from center to open up thirty-two feet of additional entertaining and living space. The glass panels are motorized and stack effortlessly into pockets at each end. Matching screen panels are included and also stack away into the pockets.
Factory Installation
Due to a challenging installation condition (there was no room to place the motor at the end of the pocket), our certified dealer, Island Contractors Supply, took advantage of our factory installation – a team of our own to install and program the wireless motorization assembly. Additionally, our team installed Vari-Slide™ doors in the master bedroom and the billiards room.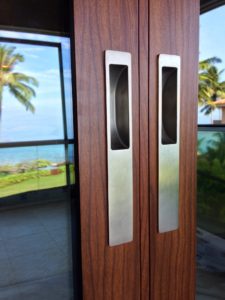 In conclusion, a beautiful installation and fresh new design for this home.